I finally have an appointment with my
ophthalmolo
gist
to take a look at my cataract. It's a pretty simple fix at this point, he says. The Doctor will gaze into my eye(s) and zap it with a laser, because I already have a replacement lens and apparently, my said lens is impervious to a laser.
Hey! Does that make me a SuperHero? Hmmmn. Picture a Lady with big old glasses fighting policemen with those over-active radar guns trying to catch the speeders. Oops. My bad.
Radars
. Not lasers. There goes my SuperHero potential.
I think it may be interesting and informative to allow my reader(s) to understand more about a cataract. A cataract is a cloudy area in the eye, which basically means that things look wacky or blurry or crazy. Essentially, this, except worse:
I am getting bored thinking about my cataract. I want to be thinking about other things. Relating to vision, of course. I'm sticking with a theme here.
So I wonder. What do
dogs
see? I've heard all the stuff about red-green confusion and better night vision and whatever. Probably not true anyhow, but how do the dog scientists
REALLY
know what dogs see?
I will ask Rubi what she sees. "Rubi, what do you see?"
Hmmmn. She ran to the front door and barked.
The internets says that dogs see this: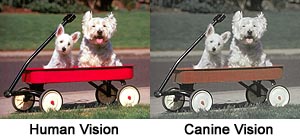 What dog sees this? A dog at a doggy amusement park? And I don't think the doggy on the left is even real.
Sadly, Daughter's dog sees this:
If this needs more explanation,
click here
.
I've been contemplating other visual abstractions as well, but I'm getting bored again. I need a jello.
I'm out.