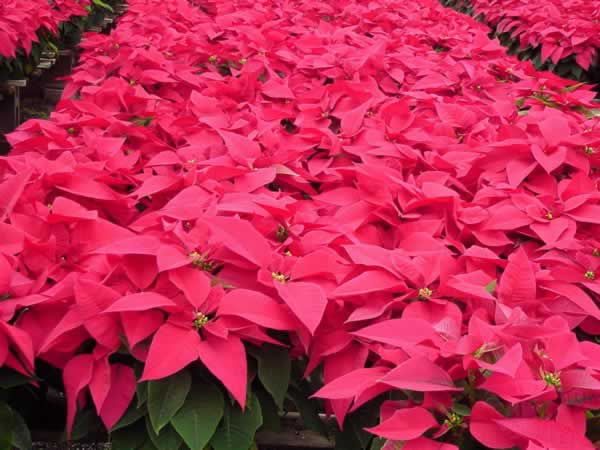 Dear Mom,
I hope that you are having a great
"Birthday to Heaven"
today. I'm not sure what you do there to celebrate the anniversary of your return. From my earthly perspective, I hope that your day is full of flowers. Pink camellias, towers of impatiens, fragrant bunches of lilacs and
poinsettias
.
Lots and lots of poinsettias.
Do you remember that at your memorial, the room was
full
of poinsettias? And Mom, they have so many
new
colors of poinsettias now! Oh, but you probably already know that, being in heaven and all.
I also hope that you are surrounded by people you love. Well,
other
people that you love. Like your Mom and Dad and your brothers and sisters. And I hope that you are spending time with people I haven't met yet, like my future
grandbaby
. And I'll bet you have so many family pets running around there that every once in awhile you want to give them a little
shoo, Sissy!
Or
shoo, Peppy!
I always thought it was hilarious that dog was named
Peppy.
I don't think I ever saw her do more than saunter. And on an occasional basis
at that
.
And I hope that you are celebrating Christmas just like we used to in our cozy old house, except it's not foggy. And you get to decorate the tree with
icicle strands
and make
divinity
and
snowballs
. And I hope that you finally learned the harmony to
'Silent Night'
because I have learned it and I look forward to singing it together sometime.
There have been some changes around here in the last seven years. Did you know that I am now known for having
fantastic shoes?
I
know.
I thought that would make you laugh. And get this--my last hair appointment cost me
two hundred bucks
!
Two hundred
! Isn't that something? Oh, and my hands are looking more and more like yours. The arthritis in my thumbs is progressing pretty fast. But I manage.
Oh! I
finally
wrote my book! Dad likes it. He's not
exactly
a tough critic. I imagine that you would like it too. I hope you don't mind that I talked about the time we went skinny-dipping. Yeah,
I know
. Good times!
I've thought a lot about your last moments on earth. A little part of myself was ripped away that night. Well, a
big part
, really. But that big part has been filled,
mostly
, with friends, family, joyful memories and happy thoughts of the future.
And that future includes you, Mom.
I'll be seeing you.
One day.